Hey folks,
Today is May Day. In some cultures it's a Spring holiday, complete with singing, dancing and cakes. In the former Soviet Union it was known as International Workers Day and used as an excuse to parade Intercontinental Ballistic Missiles through Red Square. For others, May Day is simply a distress signal. But at Madison+Main, most people have been channeling their inner Justin Timberlake today and singing 15 year old NSYNC songs. Specifically this one.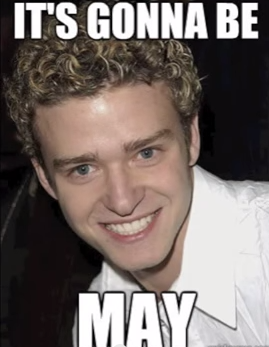 "It's gonna be May."
Monday, April 27th 
– Monday was a great day, and the highlight was an excellent meeting with a strong Richmond brand who we've admired for years. We gave them an overview of our portfolio, capabilities and 
processes and we've been selected as a finalist to pitch next month. #wishusluck
In the afternoon I was especially proud of Kaity and Carolyn on our creative team, who have been on a real roll lately. We finished work on several new client campaigns for First Bank, The Dragas Companies and Advanced Wellness Centre. Then I was able to take their awesome presentations on the road to the three corners of the Commonwealth this week. In other words, I did a lot of traveling this week.
Tuesday, April 28th – On Tuesday morning, the team had a training session on data mining and practical uses for web marketing. It's fascinating stuff, but it's a little scary how much information gets stored by big companies. Responsible people use the data responsibly…
I escaped the office for a quick lunch at Urban Farmhouse with Barbara Bliley. Barbara is a adjunct Professor of Graphic Design at VCU and MarCom professional who has recently launched her own company ThirtyFour Creative. We're thrilled for Barbara and look forward to partnering with her on several projects in the near future.
On Tuesday afternoon, 
Casey
 and I delivered 
CowanGates
 their quarterly Marketing Report and it was good to see the gang. Have you seen the 
CowanGates
 TV spot we created for them? If not, check it out 
here.
Wednesday, April 29th – On Wednesday, Kara traveled from the southwest corner of Virginia and Cassie and I drove straight up the middle to meet our clients at First Bank in beautiful downtown Strasburg, Virginia. It was a great meeting and it sounds like they have weathered the big transition (and expansion) into six new markets very well, including Elkton, Staunton, Waynesborough, Farmville, Dillwyn and Harrisonburg. My only disappointment? The famous Hi-Neighbor Diner – four doors down from the bank – has closed. It was my go-to lunch spot in Strasburg. #puddingmeat
Thursday, April 30th
 – On Thursday we met with our client 
Kim Loehr
, from the 
Lightning Protection Institute
 and made plans to promote 
Lightning Safety Awareness Week
 in June with a big event in 
New Hampshire
. Madison+Main will be creating another national public service announcement for the Missouri-based organization. "When thunder roars, go indoors." For more information on building lightning safe communities visit 
here.
Immediately after the meeting, we motored down to Hampton Roads and presented new direct mail, print and web video concepts to The Dragas Companies' dynamic duo Sally and Breyanna. The meeting went well and we're glad that Tidewater native Casey chauffeured us around the HRBT tunnel back ups and got us back to RVA at a reasonable hour.
Cassie and Madalyn escorted one of my favorite ladies Mary Anne Hartzell, Administrator at CowanGates, to the Fancy Hat Party at Doorways, formerly the Hospital Hospitality House. We have some great clients who are part of the board there, including Melissa Ball at Ball Office Products and Lynn Green at Davis & Green Electrical. We're glad they support Doorways and we're glad to support them.
Cassie and Madalyn at the Fancy Hat Party.
Friday, May 1st 
–
 Last night's 
Lancer Theatre
 production of 
Cats
 was a huge success, with a packed house for the 7 PM opening night show. My son 
Jack
 and I had front row seats so we could watch my daughter 
Hattie
 dance and prance and sing with her cast mates. I thought
Andrew Lloyd Webber's
 most famous musical might be a little ambitious for a high school theatre production, but we were floored by the entire production. Great casting. Phenomenal sets. Awesome music.
 (The show broke opening night attendance and sales records.)
Hattie stars in Cats.
Today we say 
"so long, farewell, auf wiedersehen, goodbye"
 to three very special young people, our interns this Spring semester. We had a mid day Mexican feast to toast and roast 
Ella
, 
Robbie
 and 
Derek
, who spent the last few months with us. They learned many valuable things; like making coffee, faxing and how to stay alert on the job.
Folks, don't forget this date! Our May Media Mixer at Morton's is on Wednesday, May 20thand you can RSVP on our Facebook page, or tweet us, call us (804) 521-4141 or email Lindsey at LindseyD@MadisonMain.com.
Gone fishin'
– Dave