Mediocrity
Hey Folks,
I was born in the "Flower Power 60's," grew up in the "Feel Good 70's," and survived the "Excess 80's." I became fascinated with communications and technology in the "Networking 90's." At the dawn of a new millennium, I found unity and strength in the "New Age 2000's." Together we turn the corner on the first half of this decade and I can't help but think the 2010's might be the decade of "Mediocrity." Americans are frustrated with "The New Normal," and many people I see have very little motivation and seem to keep themselves busy doing virtually nothing… virtually. As a nation I feel that we have less desire to achieve, less achievement to tally and less enthusiasm for long-held ideals. Today we seem to aim low and celebrate the fact that we hit the target at all. Why do Americans now settle so often for mediocrity? Mediocrity isn't something we've historically been comfortable with. We used to reach for the American Dream, propelled by the American Spirit, and did things the American Way. People no longer believe in American Exceptionalism. In a Gallup poll conducted last year only 28% of Americans believed that the US is that "Shining City on a Hill" described by President Reagan 27 years ago. We no longer reach for the stars, and until we do, we'll be culturally, economically, and politically mired in mediocrity. Sorry this week's email is not that funny, but the recent erosion in culture and civility – especially in politics – is no laughing matter. 🙁
At Madison+Main, we had a kick-butt week because we're not settling for "The New Normal." We're focused and aiming high.
Monday, February 29th – On Monday, we celebrated Leap Day by completely forgetting the fact that it was Leap Day. After the M+MMMM (Madison+Main Monday Morning Meeting), we polished up some new business development proposals. Afterwards I sent a sizable check to theCity of Richmond for our BPOL (Business Professional Occupation Licensing) tax. Writing that check, which was enough to buy a car, always makes me sick. #PayYourTaxes
Our friends at the 
Better Business Bureau
 believe cybersecurity threats are a big problem for small businesses. So they're offering all readers of the Weekly Report $15 off the cost of their upcoming "Cybersecurity for Your Business" Workshop on Tuesday, March 15th. Click
here
 and enter the code "CYBER" at checkout and save 15 bucks.
FACT OF THE WEEK:
Nearly 2/3 of all data breaches happen at small and mid-sized businesses. 
(Source: Security News Magazine)
On Monday night, after my piano lesson, I dropped by Capital Ale House in Midlothian to grab a beer with my good friend Dennis Falk who is now at the Virginia Banker's Association. I haven't seen Dennis in awhile and it was good to catch up and swap "war stories." I am jealous of his new Buick. 🙂
From left to right: Myra, Art, Kaity, Court, Lindsey andKaitlin take time away from their drinking to pose for a photo.
Tuesday, March 1st – On Tuesday morning at my Midlothian Rotary Club I laid down a handful of Happy Dollars; some for Jack's recent accomplishments on his AAU basketball team, theEBA All Stars, and some for my daughter Hattie and her amazing solo at the 2016 Powhatan Show Choir Classic competition last weekend. In the absence of volunteers from those in my Rotary Club, I agreed to help represent the club at the Rotary Quiz Bowl on March 23rd atRichmond Alarm Company. Special thanks to Wayne Boggs and the wonderful folks at Richmond Alarm who have volunteered to host all of the area's Rotary teams that night.
After stuffing a full day's work into a half day, we closed down the office two hours early on Tuesday afternoon so we could join our friends at Comcast Spotlight for some beers and bowling at Uptown Alley. Special thanks to our Comcast rep Myra Watkins and the rest of the team.
Wednesday, March 2nd – Heather "Hudge" Hudgins, our Copywriting Intern and Advertising major at America's best university for advertising copywriters – Virginia Commonwealth University – learned that working in a small agency means wearing a variety of hats. Hudge drew the short straw and had to drop off a proposal all the way out in Dinwiddie. She said the drive was "nice."
Despite being a fan of VCU, Heather is not a fan of basketball, and has never been to a VCU game. So I decided not to take her Wednesday night to see the Rams take on Davidson. I am happy to report my beloved VCU Rams downed the Davidson Wildcats 70 to 60. I also learned that Davidson is a small university located in North Carolina. Next week Jack, Account ManagerLindsey Durfee, Creative Director Art Webb and yours truly will drive up to Brooklyn for the A10 Men's Basketball Tournament. #GoRams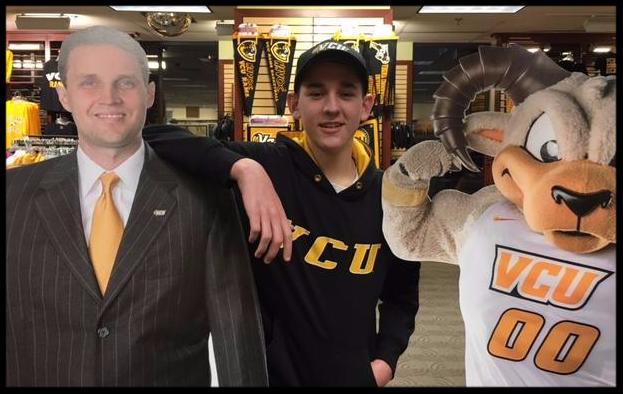 Coach Will Wade, Jack Saunders (VCU Class of 2024) andRodney the Ram chillin at VCU Bookstore.
Thursday, March 3rd – On Thursday I grabbed lunch with Richmond International Raceway'sPrez Dennis Bickmeier. Dennis is on a mission to find more great RVA eateries, so I took him toPerly's on Grace Street. (Kevin Roberts, Owner of the Black Sheep, launched the new Perly's 18 months ago.) I think Dennis really enjoyed it. It was good to catch up with him, he's a great champion of the Richmond region and he's done amazing things at RIR.
The new Gun 2 50 logo that we made for Richmond Police Foundation.
On Thursday I heard that we got a nice shout out fromChief Al Durham of the Richmond Police Department last week. Madison+Main does a tremendous amount of Pro Bono work for organizations in and around the Richmond area, and I'm happy to say that we just did some branding work (logo and collateral design) for the Richmond Police Foundation. Madison+Main is proud to support Richmond's finest and the good work they do.
Last night Bailey Bridge Middle School shooting forward Jack Saunders played tough defense, but couldn't get the shots to fall in the faculty vs. students annual basketball game. The faculty beat the kids 37-31. #GoBears
Conference calls are always better with donuts. Village Bank's Jen Merritt brought donuts on Employee Appreciation Day!
Friday, March 4th – Today is Employee Appreciation Day and this morning our friend and  Marketing Director from Village Bank Jen Merritt showed her appreciation by delivering a dozen Duck Donuts to the office. I show my appreciation for staff differently… with meat. The Madison+Main-iacs were treated to a BBQ buffet from Alamo BBQ today at lunch. Cocktail hour starts at 5pm. You should stop by.
"The only sin is mediocrity."
– Martha Graham, American Dancer and Choreographer