Life Doesn't Have a Pause Button
Hey Folks,
Maybe it's because I have another birthday approaching, but several things gave me pause this past week. It's a busy time of year between networking events, client meetings, football practice four nights a week and weekly ceremonies at the high school for my daughter (honors society, beta society, ring ceremony etc). It's hard to find time to take a few moments and reflect on things; accomplishments, friendships, obstacles etc. Sometimes I wish life had a pause button.
I was saddened to learn this week that my friend and colleague, Jack Hartmann, passed away after complications he suffered from undergoing a third back surgery recently. Jack was a very talented and dedicated pro whose legacy looms large for those in the RVA production community and the friends he has left behind. News of Jack's death was unexpected and hit especially hard for me. We worked on a lot of projects together, but it never felt like work… we laughed a lot and we're the same age, 46. (For those of you who didn't have the pleasure of meeting him, you can learn more about the man here and more about his work here.)
So I took a little time this week to reflect on things, but life goes on.
Monday, October 20th 
– On Monday, 
Lindsey Durfee
 won the "Above & Beyond" Award, a $50 Visa gift card, for her extraordinary work in wrangling our 
5th Annual Chili Cook Off
. We had over 100 guests that night and a great time was had by all.
On Monday afternoon, I knocked out several copy projects including one for our Christmas gifts. Our gifts to clients, vendors and media partners are legendary. It gets harder and harder each year to top last year's gift. You may recall last year, we gave out 2014 calendars entitled, "These Are a Few of My Favorite Sandwiches". In a few days, we'll turn the page to Mrs. November, Kara Forbis.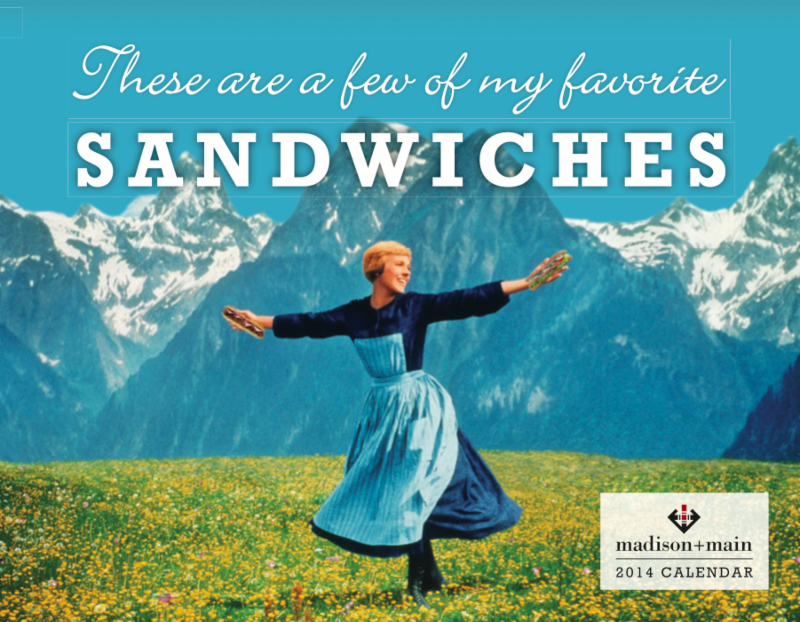 How do we top last year's holiday gift?
Tuesday, October 21st
 – 
Tuesday
 was 
National Pumpkin Cheesecake Day
. I know you guys think I make this stuff up, but it's true. 
Here's the link.
 To celebrate, we worked on tons of brand collateral materials and content marketing for our client, 
World's Best Cheesecake
. Account Executive,
Jessica Black
 played a staring role in a new web video we made for the company.
Wednesday, October 22nd
 – 
On Wednesday
, I was knee deep in RFPs (requests for proposals).  The economy must be headed in the right direction, because everybody is sending out RFPs for marketing services. We can barely keep up. Perhaps we'll win a couple of them. #FingersCrossed
I took a quick break from writing proposals and grabbed lunch with Satish Reddy, CEO of AhaApps. Satish is a former IBM'er and NTT alum, who founded the software and app development company four years ago. We are very excited that Satish is coming in to present a "Lunch & Learn" next month for our team. Learn more about AhaApps here.
Thursday, October 23rd – On Thursday, we worked feverishly to finish a proposal for marketing services for the Town of Ashland. We recognize that this proposal is small by most standards. The budget will not make us or break us. But this project, if we get it, will be a true labor of love. Art Director, Geoff Glisson grew up in Ashland. We have several clients there (World's Best Cheesecake, Howell's Heating and Air, etc). And we partnered with COTU Brewery earlier this year to make Madison+Main's Bold Brand Beer. Not many ad agencies can say they have clients in the Center of the Universe :).
Bold Brand Beer made its debut earlier this year at the RVA Creativity Awards.
On Thursday night, I was feeling somewhat nostalgic at the Smith Sharks last football practice. Despite a tough year and only having 3 out of 17 kids with prior football experience, we turned the season into a memorable one. Our last game is tomorrow against the Powhatan Tribe and we're down to only 12 players, 4 injuries and one who quit…. :(. Regardless of the outcome, its been an honor to coach with my friends Kevin Posey and Jay Evans. And I couldn't be prouder of Roland,Patrick, Liam, Konstantin, Tyler, Tyler, Logan, Wiley, Charles, Cole, Isaiah, and Julian. And thanks to our "wounded warriors", Dai'on (ankle), Nonah (dislocated shoulder), Hayden (toe) and my son, Jack (concussion).
Friday, October 24th – I can't believe its already been a year, but Geoff Glisson celebrates his first anniversary with the company today. We hit the "pause" button at lunch, dined on delicious Alamo BBQ and spent a few minutes to look back at this wild and wacky year. Apparently in the Chinese calendar, 2014 is the year of the Gee Off.
This weekend, I'm looking forward to getting away and attending a retreat with my fellow council of CEOs peer group in the beautiful County of Bath. They are holding a memorial service for Jack on Monday night, and I'm sad that I won't be there. But I'll be thinking about him.
I hope you all have a great weekend and take a little time to reflect.
 "Someone has to die in order that the rest of us should value life more." 
– Virginia Woolf
Dave